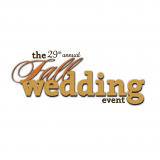 "The largest and fall wedding event."
The 30th Annual Fall Wedding Event is the Windsor Area's largest Fall event to get your wedding planning done before the hectic holiday season. If you are ready to plan your wedding in the simplest way possible, don't miss this show and see over 100 wedding retailers who can help you plan EVERY aspect of your wedding day.
Visit 6 fully decorated wedding reception areas created and designed by Windsor and area's elite Wedding Decorators. These mini reception wedding rooms will be filled with newest trends and inspiring décor ideas for your special day.
The Caboto Club is directly in front of you. The Caboto Club is a 12 minute drive from the Bridge. Follow Tecumseh Road west around the bend and over the railway tracks follow TecumsehRoad through to the 5th light.
Date:
September 15-16, 2021 from 5pm to 9pm
Event location:
Caboto Club
Windsor, ON, Canada
Contact:
Posted in
Western Ontario Bridal Shows
Tags:
Fall Wedding Event 2021
,
Western Ontario Bridal Shows 2021